I'm not so sure that I picked the right Friday to launch my mini fashion Friday link up, but here goes.
I promised you a bi-weekly baby style post based on baby J's wardrobe.  Given the countless hours I spend browsing the baby stores around here, I think this is the perfect way to showcase mini style!
Please feel free to post your own mini Fashion post, or link up your kiddo's favorite outfit post.  The link up will be held every other Friday so myself and anyone else who might be reading these posts can get lots and lots of inspiration.
I love baby clothes, I love dressing J like a mini-adult, its cute and fun…and I especially love when he matches my clothing.
Last Saturday J and I headed out to the One of a Kind Show in Toronto with a couple of friends, and he needed to look extra stylish…so here's what he wore.
Here are the rules for the link up:
– your kiddo must be in the pictures
– picture must be fashion-y
– place my button in the post to let others know you linked up
grab it here!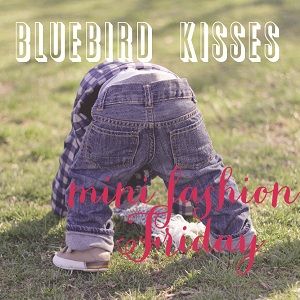 Now link up! 😀 Happy Easter Everyone!!